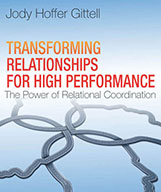 – Jody Hoffer Gittell
Whether from customers, supply-chain partners, policymakers, or regulators, organizations in virtually every industry are facing calls to do more with less. They are feeling compelled to provide higher-quality outcomes, more rapidly, at a lower cost.
This book offers a road-tested approach for delivering these outcomes through positive organizational change. Its message comes just in time, for too many companies have gone the way of low-road strategies, such as cutting pay and perks, and working harder not smarter. Drawing on her path-breaking research, Jody Hoffer Gittell reveals that high performance is fundamentally relational, rooted in both human and social capital.
Based on this insight, she provides a unique model that will help companies to build meaningful relationships among colleagues, develop smarter work processes, and design organizational structures fit for today's pressure test. By following four organizations on their change journeys, she illustrates how "relational coordination" unfolds in real-world settings. Tools for change guide readers as they learn how to implement this new model in their own workplaces.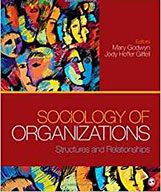 Sociology of Organizations: Structures and Relationships
– Mary Godwyn and Jody Hoffer Gittell
"What a great collection! By adding Follett to the classics and including contemporary organizational issues like diversity and new technology, Godwyn and Gittell provide for students and professionals a nuanced and compelling insight into organizational life. In addition, their general and section introductions wonderfully interweave a substantive and theoretical web across all these topics. Sociology of Organizations is an important book that transcends simplistic understandings of bureaucracy and individualistic rational theories of action. Its emphasis on a relational perspective highlights the role of people and their interactions in understanding organizations. Altogether a significant new look at key issues in modern society."  – Lotte Bailyn, MIT Sloan School of Management
"Sociology of Organizations is a far-reaching collection of classics and contemporary studies, insightfully organized around competing frameworks that spring to life in the capable hands of Professors Godwyn and Gittell. More comprehensive than the usual textbook, it not only builds on the past but also sheds light on some of the most pressing problems facing organizations today: new media, diversity and inclusion, and workforce engagement. This valuable book should reach a wide audience."  – Rosabeth Moss Kanter, Harvard Business School
"Sociology of Organizations: Structures and Relationships masterfully weaves together classic and current texts to bring to life the most pressing modern day issues that organizations face, from managing diversity within organizations to how the latest technologies, such as social media, are reshaping the boundaries of organizations. This extremely well thought out and unique book includes penetrating and immensely readable syntheses throughout, clarifying distinct theoretical lenses and creating a rich understanding of organizations. By bringing to the fore the relational organizational form, which traces back to Mary Parker Follett, this book provides a compelling counterpoint to purely bureaucratic analyses and thereby provides a way to understand the direction of the most innovative and cutting edge contemporary organizations. This highly engaging and original book is a must read for anyone interested in understanding modern organizations."  – Ofer Sharone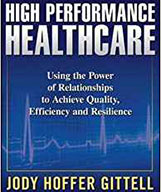 – Jody Hoffer Gittell
In her groundbreaking book The Southwest Airlines Way, Jody Hoffer Gittell revealed the management secrets of the company Fortune magazine called "the most successful airline in history." Now, the bestselling author explains how to apply those same principles in one of our nation's largest, most important, and increasingly complex industries. High Performance Healthcare explains the critical concept of "relational coordination" — coordinating work through shared goals, shared knowledge, and mutual respect.
Because of the way healthcare is organized, weak links exist throughout the chain of communication. Gittell clearly demonstrates that relational coordination strengthens those weak links, enabling providers to deliver high quality, efficient care to their patients. Using Gittell's innovative management methods, you will improve quality, maximize efficiency, and compete more effectively.
High Performance Healthcare walks you step by step through the process of:
Identifying weak areas of relational coordination within your organization
Transforming work practices that are creating barriers to relational coordination
Building a high performance work system to foster consistent relational coordination across all disciplines
The book includes case studies illustrating how some healthcare organizations are already transforming themselves using Gittell's proven tools. It concludes by identifying industry-level obstacles to high performance healthcare and showing how individual organizations and their leaders can support sweeping change at the highest levels.
Policy changes and increased access to care will not alone answer the healthcare industry's problems. Timely, accurate, problem-solving communication that crosses all organizational boundaries is a powerful response to business as usual. High Performance Healthcare explains exactly how to achieve this crucial dynamic, providing a long-awaited cure to an industry in crisis.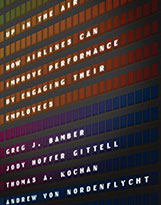 – Greg J. Bamber, Jody Hoffer Gittell, Thomas A. Kochan, Andrew Von Nordenflycht
When both an industry's workers and its customers report high and rising frustration with the way they are being treated, something is fundamentally wrong. In response to these conditions, many of the world's airlines have made ever-deeper cuts in services and their workforces. Is it too much to expect airlines, or any other enterprise, to provide a fair return to investors, high-quality reliable service to their customers, and good jobs for their employees?
Measured against these three expectations, the airline industry is failing. In the first five years of the twenty-first century alone, U.S. airlines lost a total of $30 billion while shedding 100,000 jobs, forcing the remaining workers to give up over $15 billion in wages and benefits. Combined with plummeting employee morale, shortages of air traffic controllers, and increased congestion and flight delays, a total collapse of the industry may be coming. Is this state of affairs inevitable? Or is it possible to design a more sustainable, less volatile industry that better balances the objectives of customers, investors, employees, and the wider society? Does deregulation imply total abrogation of government's responsibility to oversee an industry showing the clear signs of deterioration and increasing risk of a pending crisis?
Greg J. Bamber, Jody Hoffer Gittell, Thomas A. Kochan, and Andrew von Nordenflycht explore such questions in a well-informed and engaging way, using a mix of quantitative evidence and qualitative studies of airlines from North America, Asia, Australia, and Europe. Up in the Air provides clear and realistic strategies for achieving a better, more equitable balance among the interests of customers, employees, and shareholders. Specifically, the authors recommend that firms learn from the innovations of companies like Southwest and Continental Airlines in order to build a positive workplace culture that fosters coordination and commitment to high-quality service, labor relations policies that avoid long drawn-out conflicts in negotiating new agreements, and business strategies that can sustain investor, employee, and customer support through the ups and downs of business cycles.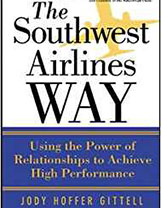 – Jody Hoffer Gittell
In an industry with losses in the billions, Southwest Airlines has an unbroken string of 31 consecutive years of profitability. The Southwest Airlines Way examines how the company uses high-performance relationships to create enormous competitive advantage in motivation, teamwork, and coordination among employees. It then goes further to show how any company can foster these powerful cooperative relationships and explains how to: lead with credibility and caring, invest in frontline leaders, hire and train for relational competence, use conflicts to build relationships, make unions its partners, not its adversaries and build relationships with its suppliers.