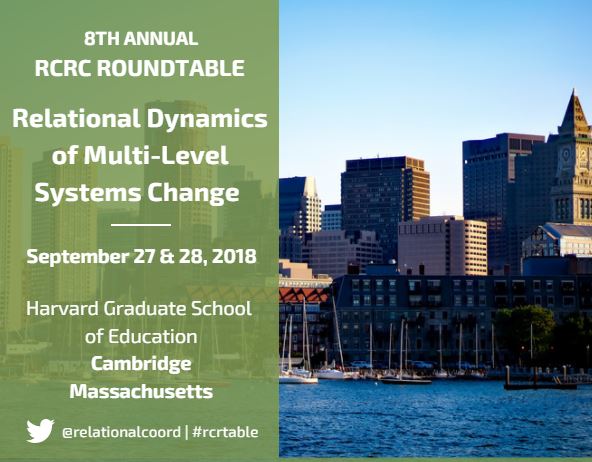 Relational Dynamics of Multi-Level Systems Change
Keynote Speakers: Phil Thompson, City of New York and Amy Edmondson, Harvard Business School
What an inspiring and exciting couple of days! I'll share a bird's eye view of how it all unfolded along with some comments we've received from participants (in quotes below). Bottom line? The Roundtable is really about the people who come and share their passion for what they are doing out in the world.
"I love how diverse and inclusive RCRC is, and how so many partners and guest speakers are inclusive and welcoming. Wonderful roundtable, wonderful group of people, it was organized extremely well. Nice to meet people and connect with people from all over the world with an interest in RC."

 

"I really enjoy that there are practitioners and researchers at the conference together. I think this makes for a much richer conference than just one or the other." 
Setting the Stage for Multi-Level Systems Change
Jean Bartunek's welcome to Boston set the stage, followed by an overview of Relational Coordination - Past, Present, and Future by John Paul Stephens and myself. Participants learned that RC is a theoretical construct that is measurable - but more broadly it's an empirically supported theory of performance and a multi-level theory of systems change. JP showed how relational coordination dynamics can be developed to support positive change at multiple levels from interpersonal to institutional. This is the future of RC.
"Multi-level system application of RC is very exciting - thanks for focusing on that and doing such good work for our professions and communities."

 

"This Roundtable had an authentic, engaging, and welcoming environment that inspired and challenged everyone to push the boundaries of how they frame and think about the relational dynamics of multi-level systems change. Mission accomplished."

 

"The initial overview did a great job of defining the fundamentals; I would have benefited from further unpacking of the concepts, even if swimming in the deep end was a lot of fun."
Thompson's Keynote on Building a New Economy
After a dozen cutting-edge presentations of RC research and practice, Tom Kochan's intro to our first keynote speaker was a rousing call to action. Phil Thompson's keynote exceeded even our wildest expectations, telling deeply moving stories of his work as deputy mayor. To fight for equity in our neighborhoods, cities and beyond, he argued, relational coordination is essential. He was met with a standing ovation, and his message and passion were repeatedly referenced throughout the Roundtable. 
"The talk by Phil Thompson was a wake-up to the 21st century version of horizontal engagement to drive social change - and this is a direction we are moving already, but I can see how we could energize it more deeply."

 

"Using RC in social challenges is an exciting area of growth but there is a very lot to be learned from existing approaches to community organizing and deep democracy. What are viable ways to build something from the best of both?"
Welcoming Activities Around Boston - and Imagining Boston in 2030
We dispersed throughout the city for afternoon welcoming activities. Our hosts led us to the Boston Mayor's Office of New Urban Mechanics, the Boston Harbor Cruise, the Beth Israel Deaconess Medical Center, Fenway Park, the Institute for Healthcare Improvement, and the RCRC/Program on Negotiation Workshop at the Harvard Law School. We gathered that evening at the City Hall where we were welcomed by Natalia Urtubey from the Mayor's Office. Natalie revealed how she is coordinating multiple stakeholders across boundaries of race and power to implement Imagine Boston 2030. In a sense, she illustrated Phil's point earlier in the day about the need for coordination to achieve equity.
"I got a lot of ideas to improve my work on welfare innovation [in Denmark] from the visit at New Boston Urban Mechanics."

 

"[In the RCRC/Program on Negotiation workshop] I discovered RC as a sister system very close to what I do as an organization ombudsman."

 

"I was very inspired by the visit at Institute for Healthcare Improvement."

 

"The format with first afternoon activities is wonderful - helps jet lag, and creates more connectedness and opportunities for great conversations."
Edmondson's Keynote on Teaming
Friday's dynamic welcome by Monica Higgins and keynote by Amy Edmondson continued our exploration of multi-level systems change. Monica's work in public education is striving to reinforce the foundations of democracy, which are at great risk of crumbling. Amy showed us how teaming - "basically relational coordination" - works at every level to enable people to achieve ambitious goals under complex conditions. Creating psychological safety is essential for this to work, Amy revealed, an insight that is reflected throughout her impressive body of work, and in the Relational Model of Change that she helped to create in 2011. 
"This Roundtable had me shaking my head so often because many of the themes that came through were reflected in our experience and in my attempt to encapsulate some of our learning through one project example. What I heard about RC and with Dr Edmondson was ever so much more articulate and has strong evidence but it felt so close to what we've lived that it was such an encouragement."

 

"Deepened appreciation of practice expertise. Affirmation that psychological safety and other sociological and organizational theory complement RC."
Leading RC Change from the C Suite to the Front Line
After more cutting edge RC research and practice, Diane Rawlins facilitated Leading RC Change from the C Suite to the Front Line featuring Jen Potts, Darren McLean, Julius Yang, Jeremiah Todd, Erin Fair Taylor, Denise Burgen, and Barbara Deane Williams, who shared their personal and professional journeys leading RC change. 
"I appreciated the affirmation that a lot of people struggle with competing language and initiatives across large complex organizations. Important to think about how you use language that already exists within a culture and make the concepts seem familiar and relatable."

 

"Was encouraged to know that others who are working with relational coordination are working as sole Champions. The role can feel lonely so it is helpful to know there are others in similar roles."
Closing With Wise Council and Toasts
We provided each other with Wise Council - personalized advice about how to carry our work forward, facilitated by Barbara Belk and Jim Best, then concluded with a farewell toast to our guests from around the country and the world, sending us off on a high note!
"The reflecting team on Friday gave me insight towards a very concrete case I have to crack at work."

 

"Was surprised at how much I loved the Wise Council (counsel?) activity. And very much appreciated the toast as a way of closing."
Turning Inspiration Into Action
Now we must carry out the work we have been inspired to do. I have pledged to create more space in the RCRC for multi-level multi-stakeholder change, including a change at the institutional/social level, and at the interpersonal level. Watching the Senate hearings featuring Kavanaugh and Blasey after the Roundtable, I had a chance to consider once again how these levels might interact. Does one's interpersonal behavior reflect the mindset one brings to institutional and social change? If so, that is all the more reason to "be the change we wish to see in the world." 
"[Takeaways for me were] coordination and equity, team and teaming, encourage our best selves, be the change you want to see."
Next Year
Finally, we are starting to plan for next year, so if you have an inspiration regarding a theme that would build on this year's, please let us know. As I fly home from a short trip to Denmark today, I reflect that inequity is on the rise even there, along with mental and chronic illness. So Building Human Sustainability at Work and in the Community has occurred to me as a timely and aspirational theme to consider for next year's Roundtable. We welcome your thoughts and reflections. 
Let me close by sending you best wishes from the RCRC team - Tanya Allain, Lauren Hajjar, and Lainie Loveless. We are here along with the entire RCRC partner community to support your work over the coming year, so stay in touch! 
"I have more RC colleagues than I remember on a day to day basis. I have an RC 'Functional Family' that I can lean on for ideas, advice, energy, etc. - And I should!"
Jody Hoffer Gittell
Director and Co-Founder, RCRC 
Relational Coordination – Past, Present, and Future by Jody Hoffer Gittell (RCRC) and John Paul Stephens (Case Western Reserve University) | POWERPOINT (PDF)
Relational Coordination to Improve Inter-Team Dynamics in Two Pathways for Community-Based Care by Rachel Fleming (National Health Service, North Cumbria, UK) | POWERPOINT (PDF)
Using Readiness and R=MC*2 to Promote implementation in a Healthy Coalition Project and Police-Community Partnerships by Abraham Wandersman (University of South Carolina, USA), Jonathan Scaccia (Independent Consultant, USA) and Lauren Hajjar (Suffolk University) | POWERPOINT (PDF)
Narrative Approach to Teamwork and Culture Change in the Henry Ford System by Rita Patel and Tracy Kramer (Henry Ford West Bloomfield Hospital, USA) | POWERPOINT (PDF)
Relational Coordination and Chronic Obstructive Pulmonary Disease Readmissions: A Positive Deviance Study by Seppo Rinne (Veterans Administration, Bedford, USA) | POWERPOINT (PDF)
Relational Coordination Model for Improving the Organization of the Footwear Sector by Vasilica Maria Margalina (Universidad Tecnica de Ambato, Ecuador) | POWERPOINT (PDF)
Surgery Team Voice and Response: Toward an Integrated Model for Improving Patient Safety and Clinician Well-being by Skip Grieser (Colorado State University, USA) | POWERPOINT (PDF)
A Case of Success in Higher Education Using Principles of Relational Coordination by Carmen de Pablos Heredero (Rey Juan Carlos University, Madrid, Spain) | POWERPOINT (PDF)