Board members Diana Marginean Schor, MA '03, Chrisann Newransky, MA '05, and Gustavo Payan, MA '05, Boston-area alumni of Heller's programs in Sustainable International Development (SID) were treated to an alumni event on April 12, 2007.
Approximately 25 alumni attended the gathering, which was the first of its kind for the SID programs. According to Norma DeMattos, Assistant Director of Alumni Relations, "The number of alumni attending was remarkable, given that so many of our SID alumni work overseas. It was exciting to get such an enthusiastic response from SID alumni in the Boston area."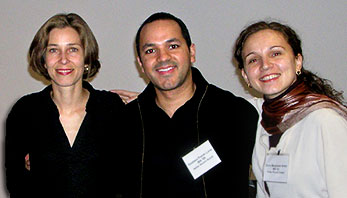 The event had a high-tech flavor, as guests enjoyed Chrisann's extensive slide show chronicling the SID program, while catching up and networking with fellow alumni and dining on a buffet of Thai food. In addition, there was a video greeting from Professor Larry Simon, Associate Dean for Academic Planning and Director of the Programs in Sustainable International Development, from his sabbatical post at the Google Foundation in northern California. Following a tour of the Schneider Building, alumni participated in a live webcast with Sean Kvingedal, MBA '06, also in northern California, who talked about the development of online message boards and forums for Heller alumni.
The organizers were pleased with the way the event turned out and hope that it will become an annual occurrence.